Global Trade Certificate Program Site Visit to Jawaharlal Nehru Port Authority, Nhava Seva Port, Navi Mumbai
As part of the PILLAI/ IWFCI GLOBAL/ IWFCI INDIA/ "Global Trade Certificate Program", students were taken on a site visit to the Jawaharlal Nehru Port Authority (JNPA).
Top officials of #JNPA extended their support and explained all the practical aspects of cargo movements in the port. Students could relate to conceptual learning in the course such as containerisation, cargo handling methods, procedural compliances and role of freight forwarders. This practical aspect gave a strong foundation and great learning for students who wish to pursue careers in TRADE ie shipping, logistics, supply chain, ship broking, freight forwarding and customs formalities.
Thank you to Mr. Jaiwant Dhawale, Chief Manager Admin and Secretary, Ms. Manisha Jadhav, Manager, Personnel and Industrial Relations who warmly greeted us, and Mr. Mukund Dongare, Superintendent, Marketing and Mr. Sanjay Patil, Marketing Department of JNPA who took us around the site.
Mr. Hasanali M. Golwala and Mr. Mustafa Golwala organised the visit for us and took care of every aspect of the visit from permissions, compliance's and on-site tour and hospitality.
Prof. Kiran Deshmukh of Pillai College co-ordinated the program and the visit along with Dr Celina Joy from Pillai Institute of Management Studies and Research.
IWFCI Global President Diana Abruzzi and Dr. Daphne Pillai Founder President of IWFCI India initiated this collaboration.
Gajanan Wader, Prof. Deepika Sharma from PCACS and Dr. R. Chandran- Director of Pillai Institute of Management Studies and Research contributed to the success of the program.
IWFCI INDIA President Dr. Daphne Pillai and Directors, Dr. Celina Joy, Ms Yvette Lee accompanied the students and organised lunch for the students.
#PillaiCollege
#JNPA
#IWFCIGLOBAL
#IWFCIINDIA
#IWFCISA
Mr. Hasan Ali Golwala, Ms. Deepika Sharma – Vice Principal PCACS and IWFCI Directors, Dr. Daphne Pillai, Dr. Celina Joy and Ms. Yvette Lee
Felicitating Ms. Manisha Jadhav, Manager, Personnel and Industrial Relations JNPA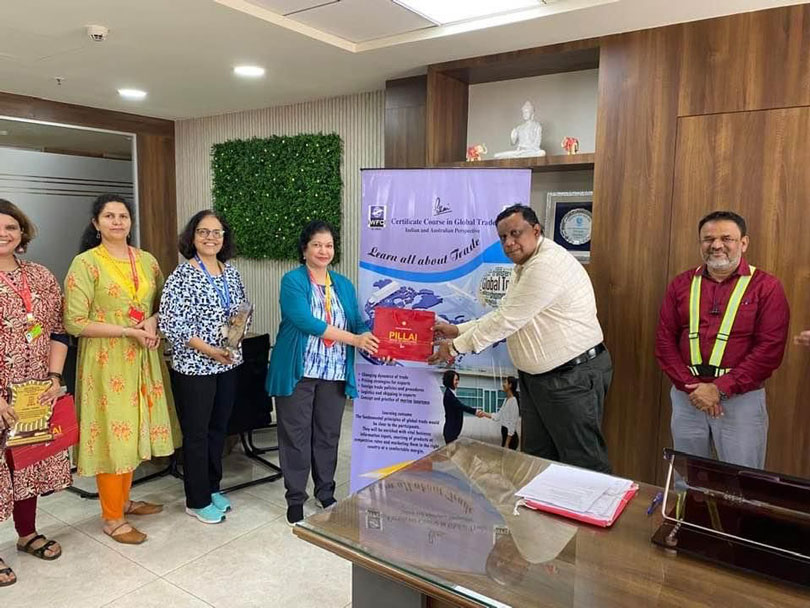 Felicitating Mr. Jaiwant Dhawale, Chief Manager Admin and Secretary JNPA
Students of the IWFCI Global, IWFCI-India, Pillai College at JNPA site
Asking and answering questions related to Trade